Last Minute Marketing Tips For Holiday Shopping
The bulk of holiday shopping has yet to hit which means there is still time to market your products before the holiday shopping season officially begins. BrightEdge research has found that shoppers are not only spending more online, they are buying more items when they do. Because of this, including smaller ticket items might be a good idea to encourage consumers to purchase more items from your business per visit. Now could be the best time for sales, discount codes, and email marketing campaigns to encourage consumers to buy as much off of your sites as possible. 
We investigated how these shoppers may be changing their behavior. This chart shows a shift starting around March 2020, of users increasing the number of purchases per visit.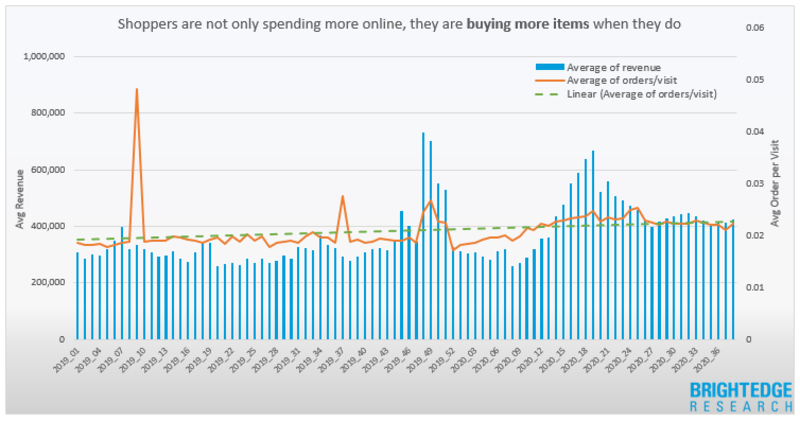 Keep in mind that many consumers receive cash or gift cards during the holiday season so there will likely continue to be spending even after the holidays are over. While some stores leverage a semi-annual sale yearly immediately following the holidays, others use digital marketing strategies to increase spending at their businesses. 
Promote your brand as much as possible on social media platforms. Use your presence on social media to boost promotions, discount codes, sales, specials, etc. Your social media will be important to your brand over the next couple of weeks. Be sure to add a link to your profile where consumers can easily get to your site. 
If you're on Instagram and your brand is eligible for the Instagram Shopping feature, use it! Instagram has 200 million users and you have the ability to reach them with your products. This allows consumers to shop right from your social media. Each month, 130 million Instagram accounts tap a shopping ad at least once and 36% of Instagrammers in the US love to shop and see it as a hobby. 
Make it easy for consumers to make purchases. While your site is hopefully already optimized, you'll want to be sure your pages give your audience what they're looking for. Be sure your website loads quickly, is responsive for mobile and desktop, and your products are easy to navigate around.  
Give consumers an incentive to keep buying. For example, practice email marketing strategies by sending a "Thank You" email following a first-time purchase that offers a 10% discount code off of their next purchase. 
Leverage "people also buy" or "shoppers that buy this also tend to buy" queues on your site to guide consumers to other products they might be interested in. Because shoppers are purchasing more items, linking related products of similar prices could encourage them to buy suggested items as well.
Our research suggests that consumers are browsing more because they're stuck at home majority of the time. Because of this, they're purchases more items and spending more overall but the purchases cost less. Don't miss out on the opportunity to drive sales without discounting a few products here and there. Happy holiday shopping!