7 Google Analytics Reports That Show How Your Blog is Really Performing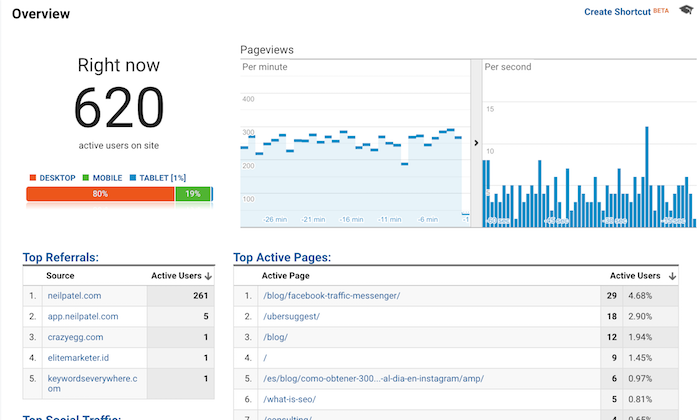 When you log into Google Analytics, what do you look at?
Chances are you see something like the image above that shows you how many people are currently on your blog.
Well, that was easy to guess because that's the report Google Analytics gives you once you log in. 😉
But which reports do you look at on a regular basis?
I bet you look at two main reports…
The "Audience Overview" report and the "Acquisition Overview" report.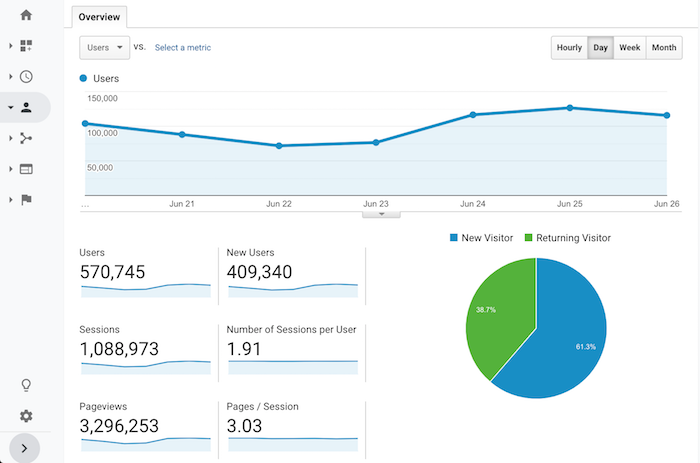 Sure, every once in a while, you may dive into your top pages or the specific organic keywords that drive your traffic. But even if you do that, what are you actually doing with the data?
Nothing, right?
Don't beat yourself up over it because most content marketers just look at reports and numbers and do little to nothing with the data.
If you want to figure out how to grow your blog and, more importantly, your revenue from your blog, there are 7 reports that you need to start looking at on a regular basis.
Here they are and here is how you use them…
Report #1: Cohort Analysis
What do you think is easier to accomplish… get new visitors to your blog or getting your visitors to come back?
It's easier to get people to come back to your blog, yet everyone focuses on new visitors.
I bet less than 99% of your blog readers turn into customers or revenue, so why not focus on getting those people back and eventually converting them?
Before we get into how to get people back to your blog, let's look at how many people are returning to your blog.
Within the Google Analytics navigation, click on "Audience" and then "Cohort Analysis".
Once you land on that report, you'll see a graph that looks similar to this: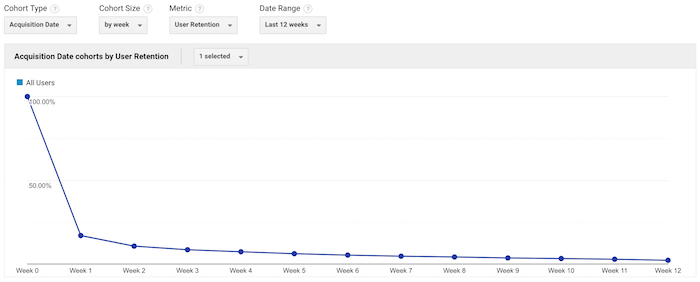 Under the "Cohort Size" drop-down menu, select "by week". Under "Date Range", select "Last 12 weeks".
Once the data loads, you'll see a table that looks something like this: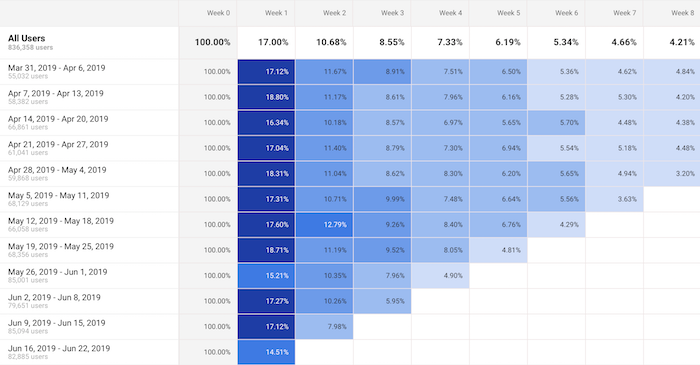 What this table shows is the percentage of your visitors that come back each week.
On the very left it will always show 100%. Then in the columns to the right, you'll see week 1, week 2, week 3, etc.
This shows the percentage of people who come back to your blog each and every week after their first visit.
For example, if this week you had 100 people visit your blog and in the week 1 column, it shows 17%. That means of the initial 100 people, 17 came back. Under week 2 if you see 8%, that means of the initial 100 people, 8 people came back in week 2.
Naturally, this number will keep getting smaller, but the goal is to get people back as often as possible. That increases trust, social shares, potential people linking to you, and it even increases the odds that the visitor will convert into a customer.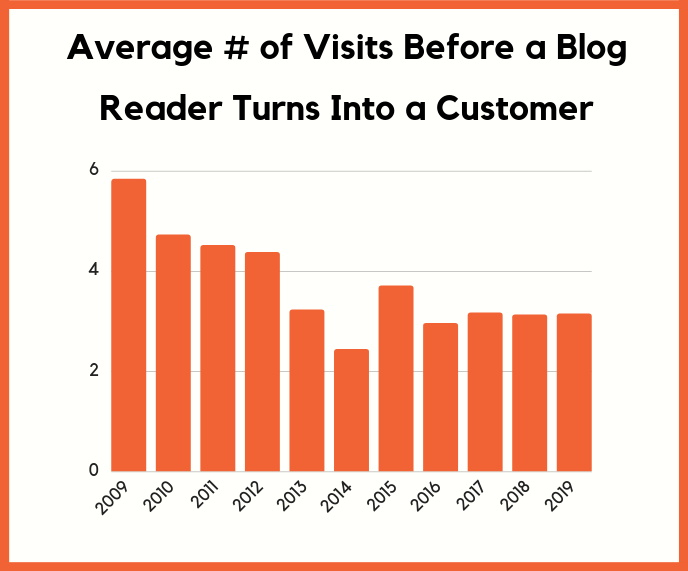 The average blog reader needs to come back 3.15 times before they turn into a customer. That means that you need to retain readers.
Just think of it this way: If you get thousands of new people to your blog each and every single day but none of them ever come back, what do you think is going to happen to your sales?
Chances are, not much.
You need to look at your Cohort Report and continually try to improve the numbers and get people coming back.
So the real question is, how do you get people to come back?
There are 2 simple ways you can do this:
Start collecting emails – through free tools like Hello Bar, you can turn your blog readers into email subscribers. Then as you publish more content, you can send an email blast and get people back to your blog.
Push notifications – by using tools like Subscribers, people can subscribe to your blog through their browser. Then every time you release a new blog post, you can send out a push and people will come back to your blog.
These 2 strategies are simple and they work. Just look at how many people I continually get back to my blog through emails and push notifications.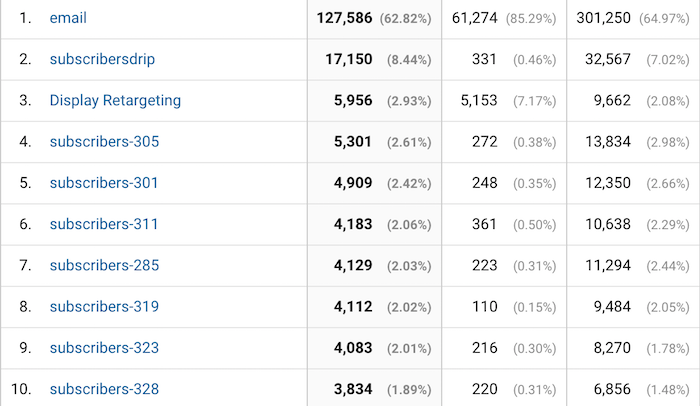 Report #2: Benchmarking
Ever wonder how you are doing compared to your competition?
Sure, you can use tools like Ubersuggest, type in your competitors URL, and see all of the search terms they are generating traffic from.
But what if you want more? Such as knowing what percentage of traffic your competitors are getting from each channel. What's your bounce rate, average session duration, or even pageviews per channel?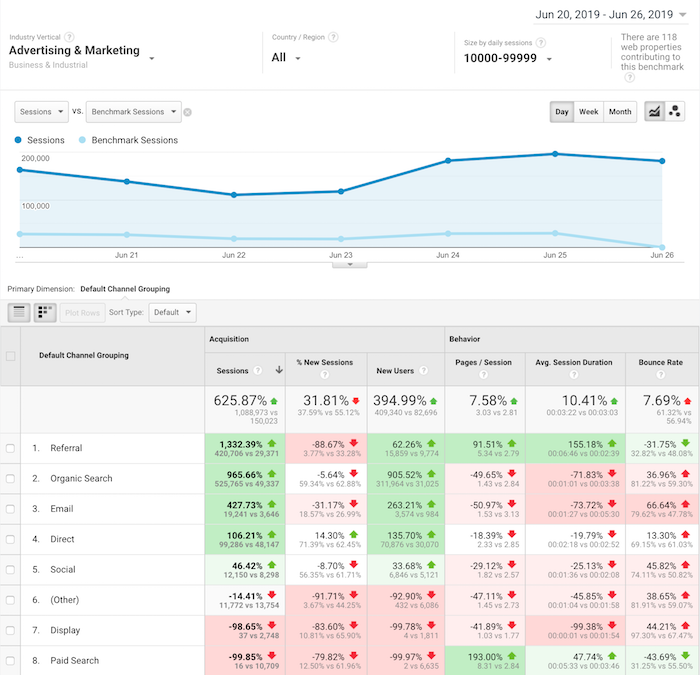 Within Google Analytics navigation, click on "Audiences" then "Benchmarking" then "Channels".
Once you do that, you'll see a report that looks like the one above.
Although you won't have specific data on a competing URL, Google Analytics will show you how you stack up to everyone else within your industry.
I love this report because it shows you where to focus your time.
If all of your competitors get way more social traffic or email traffic, it means that's probably the lowest hanging fruit for you to go after.
On the flipside, if you have 10 times more search traffic than your competition, you'll want to focus your efforts on where you are losing as that is what'll probably drive your biggest gains.
The other reason you'll want to look at the Benchmarking Report is that marketers tend to focus their efforts on channels that drive the most financial gain.
So, if all of your competition is generating the majority of their traffic from a specific channel, you can bet that channel is probably responsible for a good portion of their revenue, which means you should focus on it too.
Report #3: Location, location, location
Have you noticed that my blog is available in a handful of languages?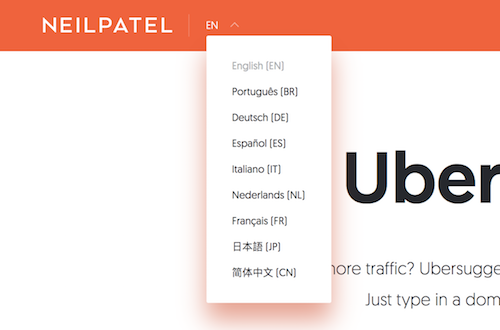 Well, there is a reason for that.
I continually look at the location report. To get to it, click on "Audience" then "Geo" and then "Location".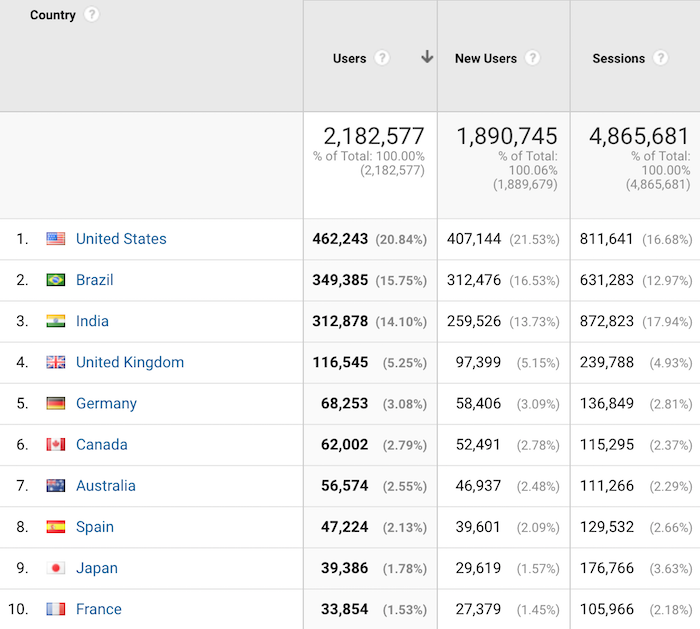 This report will tell you where the biggest growth opportunities are for your blog.
Now with your blog, you'll naturally see the most popular countries being the ones where their primary language is the one you use on your blog.
For example, if you write in English, then countries like the United Kingdom and the United States will be some of your top countries.
What I want you to do with this report is look at the
See original at:Blog – Neil Patel