The Yoast SEO configuration wizard

Imported from:Yoast • SEO for everyone

ℹ
Have you ever done a fresh install of Yoast SEO for WordPress on your WordPress website? Or perhaps you haven't installed Yoast SEO yet, and you're wondering what to expect? Perhaps the better question would be: have you ever tried our Yoast SEO configuration wizard? Our wizard takes care of all the little things that you should configure in Yoast SEO. Things that you might forget in your eagerness to get started with your newly set up website. But how do you start the configuration wizard? And what exactly do we cover in each step? Let's dive in!
Where can I find the Yoast SEO configuration wizard?
Of course, you want to jump right in and configure the plugin, using that Yoast SEO configuration wizard. Once you have installed the Yoast SEO plugin, you'll see this notification in Yoast SEO > General > Dashboard:
The configuration wizard helps you to easily configure your site to have the optimal SEO settings.
We have detected that you have not finished this wizard yet, so we recommend you to start the configuration wizard to configure Yoast SEO.
There is a link in this message, which takes you to the Yoast SEO configuration wizard.

Note that if this isn't the first time you're using the configuration wizard, you'll still find a link to run the wizard again, but the message will instead say:
Want to make sure your Yoast SEO settings are still OK? Open the configuration wizard again to validate them.
The wizard
Once you've opened the wizard, we'll guide you through the steps via a few questions. If you answer these, we'll implement the right settings for your website, based specifically on your answers.
Step 1: Is your site ready to be indexed?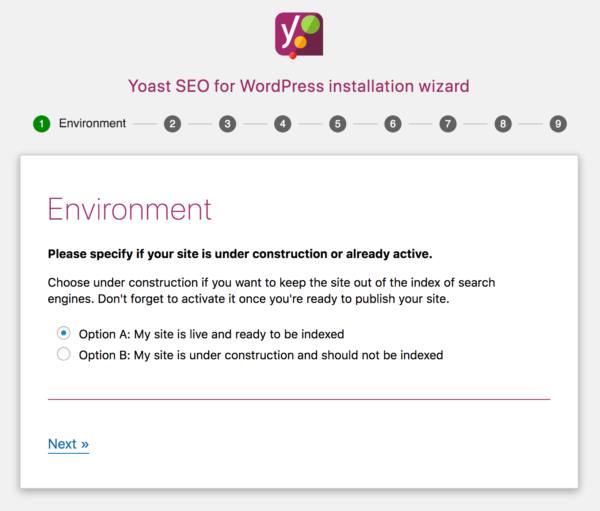 The first question determines whether you want your site to be indexed or not. The reason we ask, is that one of the most important checks in our plugin determines whether Google can index your site or not. Google needs to be able to reach your website and index it, unless you don't want that. And there could be good reasons why you might not want that: perhaps you're working on a development site, on a staging server or just don't want the public to see your site yet. If that's the case, no problem! Just set your preference in the first step of our wizard, then click 'next' to continue.

Step 2: What kind of site do you have?
In the next step, we will ask you about the type of site you have. It could be a blog or an online shop, but might as well be a news site or a portfolio.

One of the reasons we ask this question is because it's essential for you to take a moment and think about this. What is your site about? Having a clear idea of this will help you focus on what's important for you site.
Let's take yoast.com, for example. We have two different sections on our website yoast.com:
Our blogs: an SEO blog and a dev blog. In these blogs, we share knowledge about both SEO and software development in all its facets.
Our online shop. We run an online shop and you'll find our premium plugins and online courses in there.
Following our mission, "SEO for everyone", both parts of our website are equally important. Sharing knowledge is our main goal. We use our products to provide even more insights and tools, or to deliver our knowledge to you in a structured package.
So, decide for yourself what your answer to this question should be. That'll make it easier to configure several features of our plugin and, in fact, of your website later on. For us, as plugin developers, the information we get from this question is also useful for future improvements. For instance, it can help us to prioritize future additions to our plugin for specific types of sites.
Step 3: Is it you or an organization?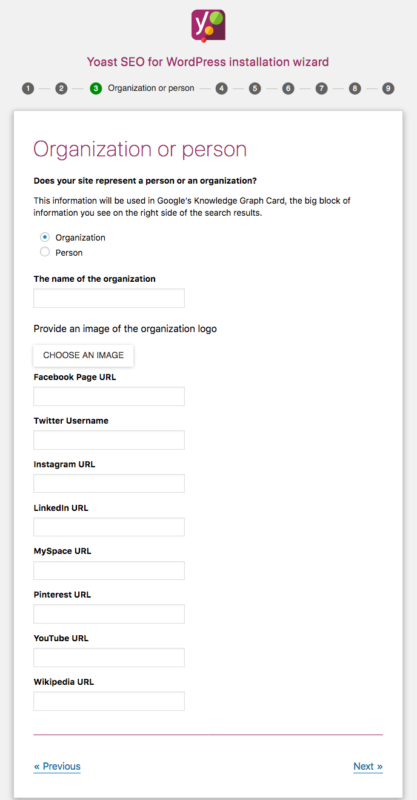 See original at:Yoast • SEO for everyone